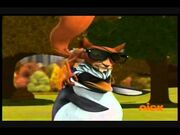 Its possible that Nigel knew Red longer then Buck did.
Nigel talks about doilies (while undercover) all the time but doesn't seem to really like them.
When Red draws attention to Nigel, after capturing them, its shown that Nigel has a cup of tea that he did not have when captured.
Nigel threw down the cup but it did not show it when Private freed them.
Nigel did not panic or get upset when Red escaped showing he was used to it.
---
RETURN TO
---
END OF ARTICLE
---
---
REFERENCE SECTION
---
---
---
Ad blocker interference detected!
Wikia is a free-to-use site that makes money from advertising. We have a modified experience for viewers using ad blockers

Wikia is not accessible if you've made further modifications. Remove the custom ad blocker rule(s) and the page will load as expected.