Ad blocker interference detected!
Wikia is a free-to-use site that makes money from advertising. We have a modified experience for viewers using ad blockers

Wikia is not accessible if you've made further modifications. Remove the custom ad blocker rule(s) and the page will load as expected.
---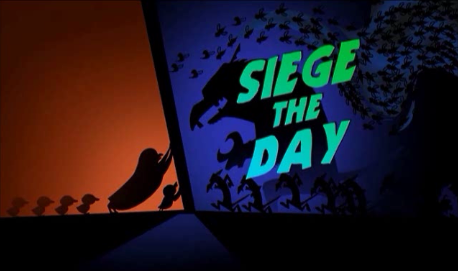 Scene I: Penguins' HQ and Habitat
TV Commentator: Sunday, Sunday, Sunday!

Skipper, Rico, and Kowalski turn around to the TV holding blue cardboard monster trucks.

TV Commentator: One night only, at the Metro War Memorial Arena! The mechanized mayhem of, King Crush!
Kowalski: King Crush! Monarch of the monster trucks! 10 feet tall, five-hundred and seventy-two cubic inch engine and fifteen-hundred horsepower weighing in at a least ten thousand pounds!
Rico: Oh, BABY!

Rico kisses his toy monster truck. Skipper throws his toy monster truck at a line of diecast models, scattering them across the HQ.

Skipper: Oh, I am ready to see the king mangle some compact fuel-efficient dweeve-mobile! How about you Private, excited right?

Private turns. He is holding a stuffed bunny and Lunacorn

Private (nervously): Wha? Oh yes, haha, over the moon...
Skipper:I can't wait!

Skipper throws his flippers up in the air.

Skipper: To the Metro War Memorial Arena! Last one topside is a rotten... (turns and sees Eggy) Eggy?
Eggy: (like Julien's speaking since their last adventure) Hello, Mr. Skipper silly penguin!

Mother Duck and the other ducklings come as the other penguins come up.

Mother Duck: Hi guys. Thanks for watching the kids today.
Skipper: Today?! As in, today today?
Mother Duck: Well, yes. I made arrangements with Private just yesterday.

Skipper and Kowalski look angrily at Private.

Private: (Acting nervous) Oh, fiddlesticks, I forgot.

Private pushes Skipper and Kowalski away.

Private: Well, you guys just go to the festival of dirt and fumes without me and stay (voice gets higher pitched) and watch these adorable ducklings!
Skipper: That's a noble sacrifice, solider. But, you know, can you handle all those ducklings by yourself?
Mother Duck: Ahem. Honestly, I'd be more comfortable it is was just Private.

Rico juggles the ducklings with a dynamite stick. It explodes and Private catches them all at once.

Scene II: Penguins' HQ
Coming soon
Scene III: Penguins' Habitat
Coming soon
Scene IV: Memorial Arena
Coming soon
Scene V: Penguins' Habitat
Coming soon
Scene VI: Central Park
Coming soon
Scene VII: Penguins' Habitat
Coming soon
Scene VIII: The Sewer
Coming soon
Scene IX: Penguins' Habitat
Coming soon
Scene X: Penguins' HQ
Coming soon
Scene XI: Memorial Arena
Coming soon
Scene XII: Penguins' HQ and Habitat
Coming soon
Scene XIII: Memorial Arena
Coming soon
Scene XIV: Penguins' HQ
Coming soon
Scene XV: Memorial Arena
Coming soon
Scene XVI: Penguins' HQ
Coming soon
Scene XVII: Penguins' Habitat, Night Time
Coming soon