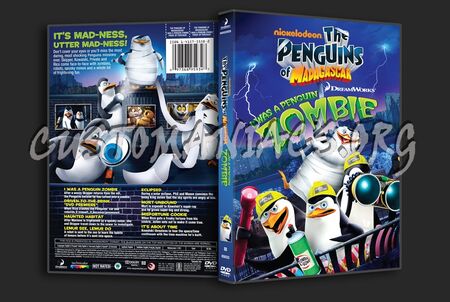 "It's Madness! Utter Madness! Don't cover your eyes or you'll miss the most daring, most shocking Penguin missions ever. Skipper, Kowalski, Private and Rico will come face-to-face with zombies, robots, spooky noises and a whole lot of frightening fun in this next DVD adventure. Featuring eight spooky Penguin operations including one never-before-seen mission."
Info
Format: AC-3, Animated, Color, Dolby, Dubbed, DVD, Subtitled, Widescreen, NTSC
Language: English
Subtitles: English, French, Spanish
Number of discs: 1
Rated: NR (Not Rated)
Studio: Dreamworks Animated
DVD Release Date: Oct 5 2010
Run Time: 88 minutes
ASIN: B003XEKXWK
Content
Special Feature:
Dreamworks Animation Video Jukebox
Credits
Covers
---
Ad blocker interference detected!
Wikia is a free-to-use site that makes money from advertising. We have a modified experience for viewers using ad blockers

Wikia is not accessible if you've made further modifications. Remove the custom ad blocker rule(s) and the page will load as expected.