Penguins of Madagascar: I Was a Penguin Zombie (DVD)
Talk

2
Share
Ad blocker interference detected!
Wikia is a free-to-use site that makes money from advertising. We have a modified experience for viewers using ad blockers

Wikia is not accessible if you've made further modifications. Remove the custom ad blocker rule(s) and the page will load as expected.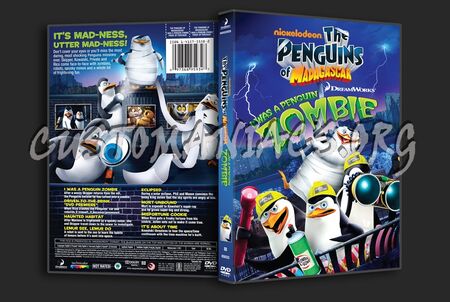 "It's Madness! Utter Madness! Don't cover your eyes or you'll miss the most daring, most shocking Penguin missions ever. Skipper, Kowalski, Private and Rico will come face-to-face with zombies, robots, spooky noises and a whole lot of frightening fun in this next DVD adventure. Featuring eight spooky Penguin operations including one never-before-seen mission."
Info
Format: AC-3, Animated, Color, Dolby, Dubbed, DVD, Subtitled, Widescreen, NTSC
Language: English
Subtitles: English, French, Spanish
Number of discs: 1
Rated: NR (Not Rated)
Studio: Dreamworks Animated
DVD Release Date: Oct 5 2010
Run Time: 88 minutes
ASIN: B003XEKXWK
Content
Special Feature:
Dreamworks Animation Video Jukebox
Credits
Covers
---