Summary
(Story taken from: here)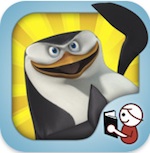 Don't you just love the Skipper and the rest of the scheming penguins from the Madagascar movies? If so, check out the new app from California based iStoryTime, The Penguins of Madagascar: Read & Play. Based on the popular, award-winning TV series from Nickelodeon and DreamWorks Animation, this app is packed full of fun and includes two storybooks, a joke book and plenty of interactive activities to entertain kids whether you're on the go or hanging out around the house.
Each book offers three reading options for kids: Read to Me, Read it Myself and Auto Play. Preschoolers will enjoy the "Read to Me" and "Auto Play" choices while elementary school readers can practice their skills using "Read it Myself." The two storybooks also incorporate video into some of the pages so kids can read (or listen to) the words on the page and then watch a short video clip of the scene.
Kids will also have fun playing the various activities included in the app. They can create their own scene, play with a kaleidoscope, color pictures and more. Activities include:
Create a Scene – Three different scenes and lots of "stickers" let kids use their imaginations and create funny scenes.
Kaleidoscope – Drag an object onto the penguin's binoculars, press the swirl button and watch the designs go.
Spot the Difference – Discover the differences between the pictures and tap to select each one.
Maze – Help your penguin navigate through three different mazes and reach the goal at the end.
Coloring Board – Select from five coloring pages, a rainbow of colors and three marker sizes to create a colorful picture to share with family and friends.
This app also includes character audio and video from The Penguins of Madagascar, highlighted text to help readers associate the words they hear with the words they see on the screen and a recording capability to let kids create their own narration of the stories.
Download The Penguins of Madagascar: Read & Play today for hours of fun with Skipper, Kowalski, Rico, Private and other character favorites. The app is available on the App Store now for $6.99.
---
Photos
---
---
Ad blocker interference detected!
Wikia is a free-to-use site that makes money from advertising. We have a modified experience for viewers using ad blockers

Wikia is not accessible if you've made further modifications. Remove the custom ad blocker rule(s) and the page will load as expected.