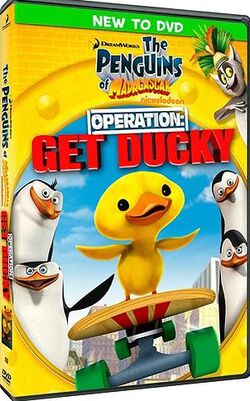 Description
Taken from: Walmart The following content was provided by the publisher.
Those wacky Penguins are back for eight exciting egg-ventures featuring their newest pal, Ducky and a few bunny friends. After Marlene discovers a lost egg, the Penguins volunteer to egg-sit until they can find its mother. When the egg hatches the Penguins put Ducky into Penguin training, but King Julien is jealous and wants to raise the duckling to be his second in command. Includes 8 episodes: "Paternal Eggstinct", "Hard Boiled Eggy", "April Fools", "Seige The Day", "Operation: Neighbor Swap", "The Penguin Stays in the Picture", "Two Feet High and Rising", and "Cradle and All".
Trailers.
Subtitles: English, French and Spanish.
Includes
8 episodes.
DVD Info
Studio Name: Paramount
DVD Release Date: 02/14/2012
Rating: Not Rated
Format: DVD
Screen Format: Widescreen
Run Time (in minutes): 92 minutes
Language: English
Audio Tracks: AC, Dolby Digital 2.0, Dolby Digital 5.1
CLOSED CAPTIONED
Shipping Weight (in POUNDS): 0.2
Product in Inches (L x W x H): 5.5 x 0.5 x 7.44
---
Ad blocker interference detected!
Wikia is a free-to-use site that makes money from advertising. We have a modified experience for viewers using ad blockers

Wikia is not accessible if you've made further modifications. Remove the custom ad blocker rule(s) and the page will load as expected.