---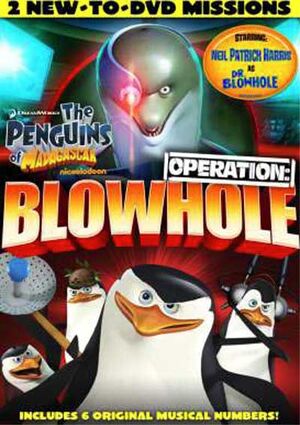 Info
Neil Patrick Harris stars as Dr. Blowhole in the latest chapter of the Emmy Award-winning series from DreamWorks Animation and Nickelodeon, PENGUINS OF MADAGASCAR. Skipper and the Penguins face off against their sinister nemesis, Dr. Blowhole, and his diabolical schemes in this action-packed adventure with six original musical numbers. It's a Bond-spoof of Penguins proportions!
That's the studio-provided description for the just-announced DVD release of The Penguins of Madagascar - Operation Blowhole, coming to stores on January 10th. This single-disc release is presented in widescreen video, with audio options in English 5.1 Dolby Digital and both French and Spanish in 2.0 Dolby Digital. Subtitles are also on board in English, French and Spanish, according to the information provided. Pricing isn't specified yet, but we expect it will be similar to previous Penguins of Madagascar single-disc releases (which have a $19.99 SRP). Stay tuned for the package art.
Contents
The studio has sent retailers some additional info about this item, including word about the contents. This 73-minute disc will consist of 3 episodes, two of them new to DVD.
The character of Dr. Blowhole is voiced by Neil Patrick Harris, who sings in 4 songs among the six original musical numbers on this disc.
---
Ad blocker interference detected!
Wikia is a free-to-use site that makes money from advertising. We have a modified experience for viewers using ad blockers

Wikia is not accessible if you've made further modifications. Remove the custom ad blocker rule(s) and the page will load as expected.