This is where Bada and Bing live.
---
Features
Tree with a tire swing
Rocks
Palm Trees
Foliage
---
Other photos
Map Pic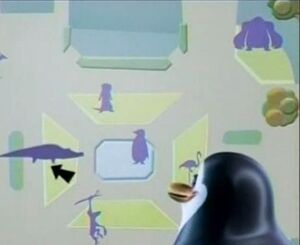 According to this pic from Operation: Neighbor Swap. The Gorilla habitat is actually in the place of the Polar Bear Habitat. Since we see Bada and Bing much more often then the Polar Bear, we can assume this is more accurate.
---
END OF ARTICLE
---
---
REFERENCE SECTION
---
---
---
Ad blocker interference detected!
Wikia is a free-to-use site that makes money from advertising. We have a modified experience for viewers using ad blockers

Wikia is not accessible if you've made further modifications. Remove the custom ad blocker rule(s) and the page will load as expected.