WHAT ANIMAL AM I?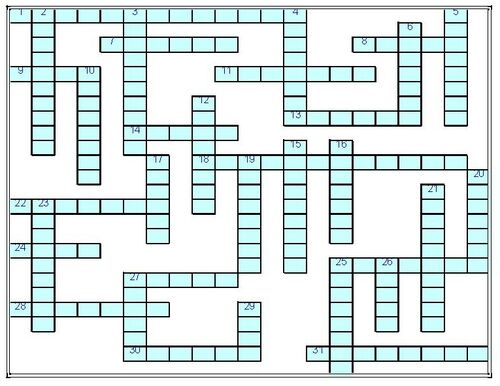 Across
1. They are mischievous and never seen
7. Frankie?
8. This animals habitat is near Joeys (according to the map)
9. Eggy?
11. This animal has been seen in numerous episodes but has not received a name yet.
13. Julien, Maurice, and Mort?
14. Marlene?
18. Gloria?
22. Archie?
24. Alex?
25. This animals habitat is near Joeys (according to the map)
27. Nick?
28. Dr. Blowhole?
30. They live in the reptile house but have been seen outside their cage (one was as a crown for Julien).
31. Barry?
Down
2. Private was tossed into their habitat in "Miracle on Ice"
3. Roy?
4. Fred ?
5. Pinky?
6. Darla and her girls are _____?
10. Joey?
12. Burt?
15. Ted?
16. They received some grapes from Archie
17. Julien has used them as "weapons" a few times
19. Skipper, Rico, Private, Kowalski?
20. Melman?
21. They change colors
23. Roger?
25. Bada & Bing?
26. Marty?
27. Phil & Mason?
29. The live in the sewer and annoy the penguins
---
Ad blocker interference detected!
Wikia is a free-to-use site that makes money from advertising. We have a modified experience for viewers using ad blockers

Wikia is not accessible if you've made further modifications. Remove the custom ad blocker rule(s) and the page will load as expected.