This habitat didn't exist until the second season episode Gator Watch, when Roger was given a home at the Central Park Zoo. It hosts Roger, an American alligator, it also contains a large pool, some rocks and a baldcypress.
Homes
Permanently
Roger the American Alligator
Temporarily
Features
Water Pool
Rocks
Baldcypress
Map location
Roger's habitat seems to be positioned in the area of the Llama and Gazelle habitats. The Llama and Gazelle hardly show up in the series, so presumably this is more accurate.
Photos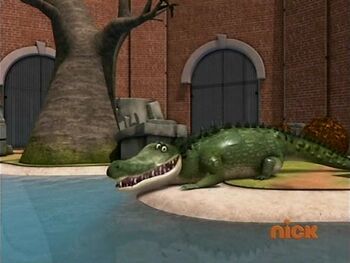 ---
END OF ARTICLE
---
---
REFERENCE SECTION
---
---
---
Ad blocker interference detected!
Wikia is a free-to-use site that makes money from advertising. We have a modified experience for viewers using ad blockers

Wikia is not accessible if you've made further modifications. Remove the custom ad blocker rule(s) and the page will load as expected.