A Christmas Caper/Transcript
Talk

0
2,862pages on
this wiki
---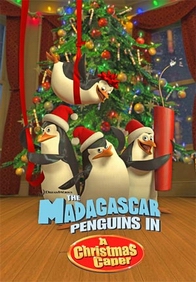 Scene I: Penguin Habitat
Edit
The screen says "Christmas Eve 1800 Hours"
A periscope pops out of a snowman. It shows Mason and Phil building a tower of cans, but Phil knocks it over. Next it shows Alex, Marty, Gloria and Melman turning on Christmas lights on Melman. However next, it shows Ted lying down on the ground of his habitat, sad. After that, it shows camel and elephant pairs partying, and then returns to Ted who sighs sadly.

Private is operating the periscope, Skipper is at the center, Kowalski is beating down fish, and Rico is standing in front of a huge chunk of ice.

Private: He looks so sad.
Skipper: Rico! I want that tree up to muster.
Rico takes two knives and carves a Christmas tree.
Skipper: Check. Kowalski! What's the status of the improved musical selection?
Kowalski: Scheduled to begin... now.

The radio is turned on and music plays.

Skipper: Exellente! Right on track.
Private: Skipper!
Skipper: Making pudding at 1900 hours, yule log to commence on my mark. Engage!

Kowalski presses a button on a remote and the TV turns on showing a log burning.

Kowalski: Yule log engage.
Skipper: Checkamundo!
Private: Skipper!
Skipper: (Rico is seen outside swimming) Eggnog at 2100 hours, writing our names in the snow at 2105.
Private: Skipper!
Skipper: What is it, Private?
Private: Ted the polar bear is alone on this holiday and he seems so sad. Could we bring him a present to cheer him up?
Skipper: Kowalski.
Kowalski: (making calculations on his abacus) Negative, Skipper. (shows four moving fish wrapped up) We have four presents and there are four of us.
Private: We can go and get him something.
Skipper: Sorry, Private, no can do.
Private: But no one should be sad and alone on Christmas.
Skipper: Excatly. So throw those troubles away and be merry, pronto.
Private: But, Skipper-
Skipper: That's an order, mister. All right boys, stand by for eggnog.
Kowalski: (pounding the fish with a mallet) Aye aye, Skipper.
Rico: EGGNOOOOG!! EGGNOG, EGGNOG, EGGNOG, EGGNOG...
Skipper: Private?
Private: I'll pass, thank you.

Private sadly walks off, then gets an idea. He gets some money out of his Gloria piggy bank and sneaks to the fish plague while Skipper and Kowalski see how much eggnog Rico can chug at once.

Skipper and Kowalski: Go, go, go, go, go, go, go, go, chug, chug, chug, chug, chug, chug, chug, chug!
Skipper: Hold on, Rico! That guy can really hold his nog.

Private opens the plague and slides out.
coming soon...
---
END OF ARTICLE
---